Bread has always been my downfall.  Pizza crust is even worse.  When I was a kid, I loved all things bread and would snack on a piece of bread and butter.
One of my favorite restaurants was Beau Jo's pizza, a local and awesome pizzeria that specializes in thick pizza crust and is famous for bringing you honey bears to enjoy with your pizza crust.  It's kind of like eating a sopapilla with honey as dessert, only thicker and yummier.  This pizza place started in Idaho Springs, Colorado, and has now expanded to several different locations spread out over the Colorado landscape.  If you live in Colorado and love thick crust, this place is for you!
Gluten-free Pizza Crust at Beau Jo's and Uno's
News Flash! I just visited Beau Jo's website and they are now offering not only gluten-free pizza crust but also dairy-free cheese!  I no longer live in Colorado but when I visit, I will be sure to try this. If you live in Colorado and have tried this crust, please leave a comment and let us know how it is!
I recently tried the gluten-free pizza crust at Uno's and was not that impressed.  Mostly because I don't like thin crust and that is all that they offer in gluten-free.  I also can't have cheese so it ended up being a pretty boring pizza to me.
From no pizza to yummy gluten-free pizza crust:
For a long time I just gave up pizza, sadly, believing that it just wasn't possible.  When friends or family ordered it in my presence, I felt myself shrink and repeat the mantra, "I can't eat wheat."
For whatever reason this changed when I decided there must be a way I can enjoy pizza again.
I first tried Bette Hagman's gluten-free pizza crust recipe in her book, The Gluten Free Gourmet Cooks Comfort Foods.  I actually didn't follow the recipe and ended up kneading it like regular dough.  What turned out was an amazing crust that I turned into a calzone, and was thick and doughy like regular crust.  I was impressed and sold on the idea that gluten-free pizza crust was not only possible, but delicious too.  My husband even loved it.  I will be doing a separate post about this recipe very soon.
Quick and Easy Gluten-free Pizza Crust?
But what about the days you don't have a couple hours to spend making gluten-free pizza crust?  What about the days you get home at 5 and have to have dinner done by 5:30 so that you can feed your hungry kids?
I wanted to find a solution to this too so I started looking at some gluten-free frozen pizza crusts and some gluten-free pizza dough mixes.  The following is a review of the one's I've tried so far and what I thought.  I know there are others so I will be continuing this experiment and do another blog post on it.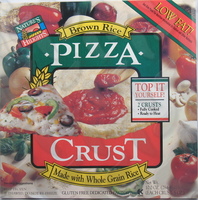 Nature's Hilights Brown Rice Pizza Crust
This is the first frozen pizza crust I tried, but my least favorite.  I will note here that I tried it because it was free of corn, dairy and yeast as well as being gluten-free.
But it was really awful, I have to admit.  It was more like a tortilla and the only thing selling this little pizza crust is it's packaging.  If they put it in a plastic bag like a tortilla, I don't think many people would buy it.  It was just way too thin and not very tasty.  I have found similar reviews of this pizza crust online that I wish I had read before buying this one.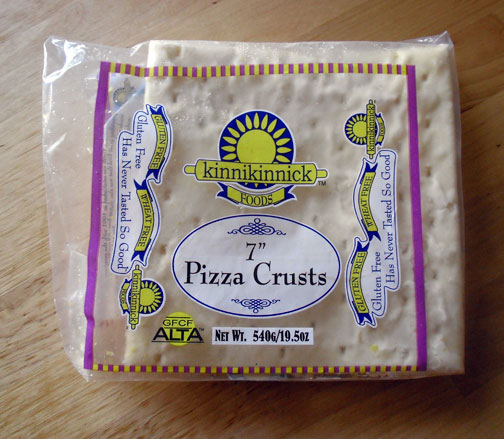 Kinnikinnick Frozen Pizza Crust
After my first experience, I wanted to try something that looked a bit beefier.  I picked up the frozen gluten-free pizza crust made by Kinnikinnick.  The kind I bought was a package of four square pizza crusts.  It does contain eggs, yeast, sugar and corn.
This turned out to be one of our favorites.  The crust has a nice consistency and holds up to plenty toppings.  The photo at the beginning of this blog post is of the pizza that I made with it.  I put artichoke hearts, garden tomatoes, mushrooms and goat cheese (we can eat goat products) on it.  It was very yummy and tasted like the real thing!
My only complaint about this gluten-free pizza crust is that the crusts tend to bow and are not completely flat when you take them out of the packaging.  It just makes it a little difficult to put the toppings on, but it flattens out in the oven as you bake it.
Namaste Gluten-free Pizza Crust Mix
My next experiment was with the gluten-free pizza dough mix by Namaste.  I like that it is made from brown rice flour instead of white rice flour.  It is also yeast, sugar, corn and dairy free.
With this mix, you mix the ingredients and then spread the (wet) dough over an oiled pizza pan.  This was the first time I had made a wet pizza dough because I have always kneaded mine to make it roll-able.  But I was trying to follow the directions so I gave it a go.
I didn't take a picture of this one after I made it but it was pretty good.  Not as good as Kinnikinnick's or my own, but still worth eating.  My main complaint with this one is that it became a little gummy and didn't hold up to many toppings.  I like my dough a bit crispier and chewier than this was proved to be.   I would try this one again.
Gluten Free Pantry French Bread and Pizza Crust Mix
This was my latest attempt at a quick gluten-free pizza crust.  It was actually the most work out of all of the one's I've tried so far, because it calls for egg whites, which need to be separated.
It was also a bit confusing as far as the directions went.  It wasn't clear how many pizzas and what size pizzas the dough would make.  I mistakenly put the entire mix into my large pizza pan.  This dough was really enough for two of these large pizza pans.
What turned out was a very thick, white, doughy crust.  Now, I like thick crusts, but I also don't like feeling like I am eating a hunk of bread every time I take a bite.
Now, I don't think this mix is bad – I actually think it is pretty good besides the fact it's made with white rice flour (not all that nutritious.)  It had a nice flavor and was a nice consistency.  I just think I made it too thick and would like to try it again using half as much batter for the crust.  This mix is similar to the Namaste brand in that it asks you to spread the wet dough over the pan.  I'll keep you posted if I end up using this one again with the right measurements.
What Gluten-free pizza crust do you like?
I would love to hear about your experiences with these mixes and frozen pizza crusts, or other gluten-free pizza crusts and mixes.  What are your favorites?  What are your least favorites?  Any tricks you have found to making them yummier?
Thanks so much for reading!