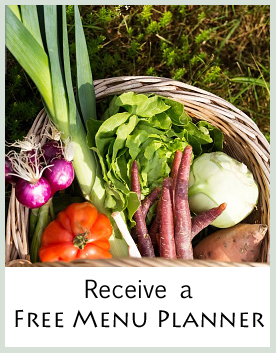 Want to try a delicious, easy and allergen-free menu planner that you will love?
You can receive two FREE sample menu planners of the following diets:

A sample of the Nourishing Foods Menu Planner that is also 7 Common Allergen Free. This menu is a meat based menu and is also GAPS-friendly and is free of gluten, grains, dairy, soy, seafood, tree nuts, eggs, grains, corn, sugar and peanuts.
A sample of the Vegan, Gluten, Dairy, Soy and Nightshade-free Menu Planner
Each menu planner contains the following:
5 delicious entrée recipes
5 yummy side dish recipes to complement the meal
One dessert recipe
An organized shopping list for the entire week
Simply fill out the form below to receive your sample menu planners. 
We will email you the menu planners and also send you tips, yummy recipes and special offers from time to time.
You can unsubscribe anytime you wish and we will never share your email address.

After you submit the form, check your email.
Look for an email from me, Sarah Schatz, asking you to confirm your email address.
Click on the link in the email to confirm your email address.
You should then get another email with the menu planner sample attached as a PDF.
Having trouble getting your free menu planner?
If you didn't receive the confirmation email, check your SPAM box.  This is one of the #1 ways people miss out on the menu planner.  Look for the confirmation email in SPAM and confirm your email address. Then, mark my email address as "not SPAM."
If you're still having trouble, please email me.
Thank you for signing up to receive your free menu planner!
Are you on a very limited diet? Get a Free copy of the Elimination/Detox Menu Planner
This menu planner is free of gluten, dairy, soy, grains, eggs, nuts, nightshade veggies, starchy veggies, and sugar except stevia and berries.  Try it out FREE today.
Great for anti-candida diets or very limited diets.